Memory Game Advance
---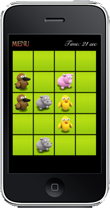 After 8 days, Apple reviewed and approved my second iPhone game developed using Cocos2d framework.  In this game you've to match a pair of objects as quickly as possible. Objects are randomly placed so its a bit difficult but interesting. There is also a ranking system based on time and number of clicks. So play this game and have fun.
So what is cocos2d ?
cocos2d for iPhone is a framework for building 2D games, demos, and other graphical/interactive applications. It is based on the cocos2d design: it uses the same concepts, but instead of using python it uses objective-c language. It also used Open GL ES to render game screen.
Checkout my other iphone applications/games from
here
.