Monitor your website using 3rd party sites
---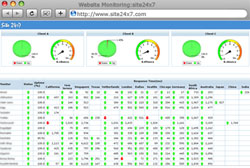 What would be your feelings if you see your site is down for more than 4 hours, or your VPS is shutting down by the hosting company and needs to reboot? In my case I would be feeling very angry if I see such type of long downtime. But if I be informed within 5 min or 15 min after downtime then I can take proper action to restore my service.
So if you want to get alert message when your site is down you could use third party service like site24x7, siteuptime , 100pulse
All of them has free services and paid services. Personally I use site24x7 . Here You could set 2 urls and http port check in 60 min interval as a free service. You can pay 1$/month for 1 Url to check between 1 min to 60 min. They will send email to you if your site is down. You can also purchase SMS package so that they can also send sms message as alert.

So checkout these sites and use which site suits best to you.