integrate google friend connect in your site -non api
---
in this article i'll show how you could integrate google friend connect in your site.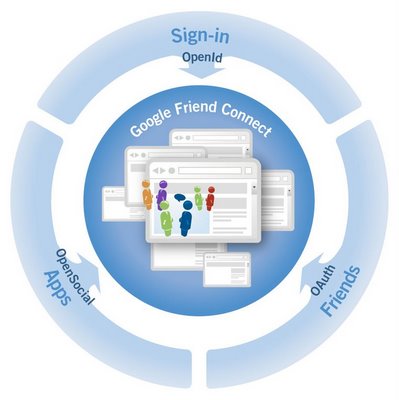 integration of google friend connect is very easy. visit http://www.google.com/friendconnect/
now click set up a new site. you will see 2 options. click friend connect for standard web sites
now you'll see a page "tell us about your site". fill the site name field and the home url field. click continue
now you'll see 'add the following files to your site' page. here download the 2 files and upload those  in your site as defined by 'upload to'.
so at this stage you completed the google friend connect setup. now i'll show how to integrate code on your site.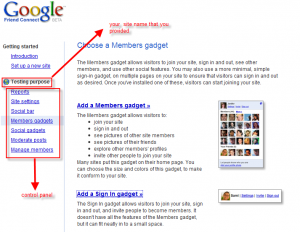 suppose you want a member gadget then click Add a Members gadget ». members gadget allows visitors to:
join your site
sign in and out
see pictures of other site members
see pictures of their friends
explore other members' profiles
now you'll see a page from where you could change color and size of member gadget. now click generate code. it will provide you the html code, now just copy it and paste into your html page. done 🙂
like this way you could integrate many gadgets provided by google friend connect. some useful gadgets are
wall gadget »

allows viewers to post comments, or links to videos on your site.
review/rate gadget »

allows viewers to rate a page, or a section of a page. viewers can use this to rate videos, articles, books, photos, songs, or anything else you can imagine.
have fun. 🙂