Free mind mapping software
---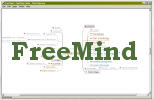 Some days ago one of my senior brother give me the link of this awesome free software. My brother used it to visual design a book, chapters, topics. Its such a wonderful software that you can easily draw and present your thinking as a nice way.
If you're a project manager you can easily draw your projects so that your developers can easily understand what they need to do. If you're a web developer you can also design your web applications so that other developers can easily understand about the features and modules.
So lets look at the features of this tool:

You can easily keep track of your projects, including subtasks, state of subtasks and time recording
In project you can include links to necessary files, executables, source of information
Its best for brainstorming, using colors you can easily differentiate your objects
You can keep a small database of something with structure that is either very dynamic or not known in advance
The software is very easy to use. You can just drag n drop various object
The software is portable for all operating system
Learn more about this software from here .
The software can run on any operating system so download the software from here and this software is completely free.