Apple App Review Team's Double Standard for Container App Policy 4.3 Spam
---
Developing a good software or complex mobile app takes time. It doesn't happen overnight. Since 2010, I had been developing iOS apps and have developed some popular iOS apps which have very good user ratings and several times featured. After Apple introduced 4.3 clause https://developer.apple.com/app-store/review/guidelines/ we are not allowed to use the same user interface to develop multiple apps by changing data only which is considered spam. I didn't use any of my template since then to create a new app, but Apple allowed to publish updates of the old apps without issue. But for last 7 months, they are not accepting updates as well.
"4.3 policy says: Don't create multiple Bundle IDs of the same app. If your app has different versions for specific locations, sports teams, universities, etc., consider submitting a single app and provide the variations using in-app purchase. Also avoid piling on to a category that is already saturated; the App Store has enough fart, burp, flashlight, and Kama Sutra apps already. Spamming the store may lead to your removal from the Developer Program."
Well, if this policy applied for all, I had no complain. I last talked with one of Apple representative in November 2017, and she said you have to make a container app for all your dictionary apps . Similarly I have some popular note taking apps like: Bangla Note, Tamil Note, Arabic Note etc. and I also need to make a container app for these as well.
So as a testing purpose, I made a container app Elitenote, that consolidated all my note taking apps. One app is for all audiences.
After some initial marketing and boosting, almost no one is downloading this app. On average 150 downloads per month and not able to make money. The reason to fail this app:
For example:
When someone from Bangladesh search "Bangla note" then my Bangla Note app and some other people's bangla note apps come in the search list. In my Bangla Note app I can target many related keywords for Bangladeshi people. Which I am not able to target in Elitenote app for all language specific people because there is 100 char limit in keywords field. So I have to specify 2/3 keywords for bangla, arabic, hindi, tamil, gujarati, marathi in Elitenote app which I was sure before release that it will not be a successful business app and that is happening now.
So I didn't get any interest to make a container app for all my dictionary app. And overtime I am trying to changing my career from iOS development to Web or other field. Because iOS platform is no longer a good platform for indie devs anymore.
Anyway, recently what I noticed, one of my competitor in iOS platform able to published his 40+ dictionary apps' updates.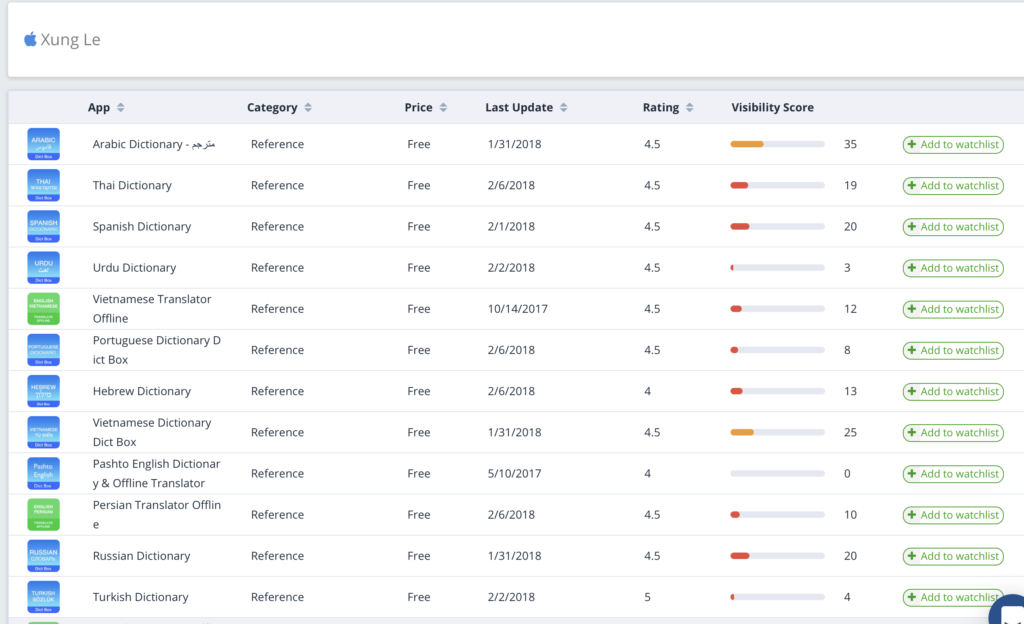 So I thought Apple might be changed their mind and accepting apps's updates. So I submit updates for few of my apps, and they sent me same reply:
"Your app provides the same feature set as many of the other apps you've submitted to the App Store; it simply varies in content or language. Creating multiple Bundle IDs of the same app is not appropriate.
Next Steps
To resolve this issue, please combine apps with similar feature sets into a single "container" app. You should differentiate varied content within your app by categorizing elements into groups, using the in-app purchase API, and location services to deliver content to users."
I showed them proof that they are accepting some other people's app updates similar like my apps then why they are rejecting my apps update?
One of the person who  phoned me 4 months ago, again phoned me and told the same thing. When I told him, why I saw other people's apps updates are getting published whereas my apps' updates are rejected,
She said, it is none of her business, she doesn't have interest to talk about other dev's apps with me.
She again try to convince me to create a container app for my dictionary apps, I told her everything about Elitenote which is a failed project and told her why this is a failed project. But she said as usual, you have to make container app this is the policy.
So,
Apple's policy is not same for all. They are doing double standard and I don't know why they are doing like this. 
Being a successful indie developer for 7 years, I am now slowly moving my career focus on different things.
But when my app users says, please fix this or add this feature, unfortunately I can't update my apps because Apple doesn't allow my apps updates.
What a shame Apple, you should at least care your iDevice users! 
For new devs if you want to develop apps for iOS and want to being indie dev, think twice before you move. If you want to do job for other, then it is okay.
Tags:
app
,
apple
,
business
,
container
,
dev
,
failure
,
indie
,
iOS
,
ipad
,
iphone
,
making
,
Mobile
,
money
,
success