YouTube Search functionality in facebook app
---

Someday ago I had to add youtube video search functionality in a facebook app. Here I described how I added youtube search functionality in that facebook app using Zend_Gdata php library.
Here is a screenshot of that facebook application, where I added YouTube video search functionality.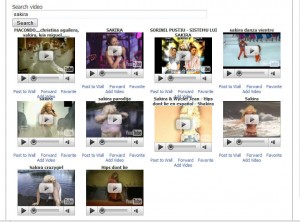 If you use Zend Framework for developing facebook application, then you don't need to download any additional library. If you don't use zend framework then download the latest version of Zend GData Component library from here. Zend_Gdata is distributed as part of the Zend Framework
After downloading  Zend_GData, unzip it. You'll see a folder named Zend within it you'll see some folders and files like below screen.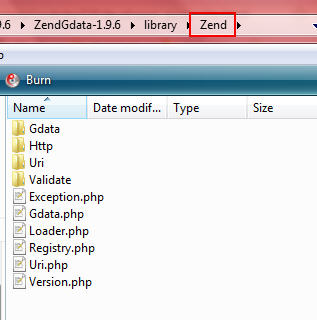 Now put the Zend folder in your project root folder or library folder. I assume your project name is fbyoutube and the file where you'll integrate youtube search is fbyoutube/youtube.php and I assume you place Zend folder in fbyoutube/Zend
First Include the Zend_GData library:

<?php
    //filename youtube.php
    set_include_path('.' . 'Zend/' . PATH_SEPARATOR . get_include_path());

    include "Zend/Loader.php";
    Zend_Loader::loadClass('Zend_Gdata_YouTube');
?>

Now create a search field from where user can provide text to search:

<div>
       <form name="fvideo" action="youtube.php" method="POST">
            <input type="text" name="videotext" size="80" value="<?=isset($qs) ? $qs : ''?>" />
            <br />
            <input type="submit" value="Search" name="submit" />
       </form>
</div>

Now see the search functionality code here:

<?php
        $qs             =   isset($_REQUEST['videotext']) ? $_REQUEST['videotext'] : '';
        if (empty($qs)){
            $data['notext'] = true;
            return;
        }

        $result =   true;
        //youtube part
        $yt = new Zend_Gdata_YouTube();
        $query = $yt->newVideoQuery();
        $query->videoQuery = $qs;
        $query->startIndex = 10;
        $query->maxResults = 10;
        $query->orderBy = 'viewCount';

        //echo $query->queryUrl . "<br />";
        $videoFeed = $yt->getVideoFeed($query);

        foreach ($videoFeed as $videoEntry) {
              $videoThumbnails = $videoEntry->getVideoThumbnails();

              $vidparser =    parse_url($videoEntry->getVideoWatchPageUrl());
              parse_str($vidparser['query'], $query);
              $vidid     =    ($query['v']);

              $link      =    "http://www.youtube.com/v/$vidid&hl=en&fs=1&rel=0";

              $data['videos'][]   =   array(
                     0 => $link,
                     1 => $videoThumbnails[0]['url'],
                     2 => $videoEntry->getVideoTitle(),
                     3 => "http://www.youtube.com/watch?v=" . $vidid
              );
        }
?>

After searching now we will show the result with thumbnail in facebook canvas page:

<style type="text/css">
.content1 .week_box {
      float:left;
      height:180px;
      position:relative;
      width:179px;
      text-align: center;
    }
</style>

<?php if (isset($data['notext'] )) { ?>
    <b>No Query. Please enter something to search! </b>
<?php } ?>
<?php if (isset($data['videos'])) { ?>
    <div class="content1" >
    <?php foreach($data['videos'] as $video) { ?>
        <div class="week_box">
            <b> <?=$video[2]?> </b> <br />
            <fb:swf swfbgcolor="000000" imgstyle="border-width:3px; border-color:white;"
                    swfsrc='<?=$video[0]?>'
                    width='150' height='120' />
            <br />
        </div>
    <?php } ?>
   </div>
<?php } ?>


Done. No one wants to be confused so here I've shown the full code in one file:
youtube.php

<div>
    <form name="fvideo" action="youtube.php" method="POST">
        <input type="text" name="videotext" size="80" value="<?=isset($qs) ? $qs : ''?>" />
        <br />
        <input type="submit" value="Search" name="submit" />
    </form>
</div>

<?php
set_include_path('.' . 'Zend/' . PATH_SEPARATOR . get_include_path());

include "Zend/Loader.php";
Zend_Loader::loadClass('Zend_Gdata_YouTube');

//getting search text
$qs             =   isset($_REQUEST['videotext']) ? $_REQUEST['videotext'] : '';
if (empty($qs)) {
    $data['notext'] = true;
    return;
}

$result =   true;
//youtube part
$yt = new Zend_Gdata_YouTube();
$query = $yt->newVideoQuery();
$query->videoQuery = $qs;
$query->startIndex = 10;
$query->maxResults = 10;
$query->orderBy = 'viewCount';

//echo $query->queryUrl . "<br />";
$videoFeed = $yt->getVideoFeed($query);

foreach ($videoFeed as $videoEntry) {
    $videoThumbnails = $videoEntry->getVideoThumbnails();

    $vidparser =    parse_url($videoEntry->getVideoWatchPageUrl());
    parse_str($vidparser['query'], $query);
    $vidid     =    ($query['v']);

    $link      =    "http://www.youtube.com/v/$vidid&hl=en&fs=1&rel=0";

    $data['videos'][]   =   array(
        0 => $link,
        1 => $videoThumbnails[0]['url'],
        2 => $videoEntry->getVideoTitle(),
        3 => "http://www.youtube.com/watch?v=" . $vidid
    );
}
?>

<style type="text/css">
.content1 .week_box {
      float:left;
      height:180px;
      position:relative;
      width:179px;
      text-align: center;
}
</style>

<?php if (isset($data['notext'] )) { ?>
    <b>No Query. Please enter something to search! </b>
<?php } ?>
<?php if (isset($data['videos'])) { ?>
   <div class="content1" >
    <?php foreach($data['videos'] as $video) { ?>
        <div class="week_box">
            <b> <?=$video[2]?> </b> <br />
            <fb:swf swfbgcolor="000000" imgstyle="border-width:3px; border-color:white;"
                    swfsrc='<?=$video[0]?>'
                    width='150' height='120' />
            <br />
        </div>
    <?php } ?>
  </div>
<?php } ?>

I hope this code will help you to add youtube video search functionality in your facebook app. You could also add youtube search functionality in your normal website and you could use some more functionalities of Zend_GData. See the references:
http://code.google.com/apis/youtube/2.0/developers_guide_php.html
http://code.google.com/apis/gdata/articles/php_client_lib.html