Make your site more social using facebook social plugins
---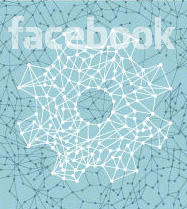 Just think 100 facebook users visit your site, among them 50 users like one of the article or product of your site. So 50 users friends will see in their homepage, that their friend liked your article or product. If 50 users have average 100 friends and among them 50 will visit your site then the calculation will be like 50 * 50 * …… = 2500 and more.
So using facebook social plugins you can make your site more social and engaging. Do you know how many users currently using facebook ? Its 400 milion. So why you will not take the power of facebook to promote your site.
Like Button

The Like button enables users to make connections to your web pages and share content back to their friends on Facebook with one click.
Benefits
Code is simple. Just one line iframe base code you can generate and could use in your site.
The like message will post to user's recent activity and friends feed.
If a facebook user first time visit your page, they will see if any of his friends liked your page or not.
For logged-in facebook users, the button is personalized to highlight friends who have also liked the page.
code sample:

<iframe src="http://www.facebook.com/plugins/like.php?href=http://thinkdiff.net/&amp;layout=standard&amp; show_faces=true&amp;width=450&amp;action=like&amp; colorscheme=light" scrolling="no" frameborder="0" allowTransparency="true" style="border:none; overflow:hidden; width:450px; height:60px"></iframe>

Recommendations

The Recommendations plugin shows personalized recommendations to your users.
Benefits
User will see personalized recommendations
For a logged in Facebook user, the plugin will give preference to and highlight objects her friends have interacted with.
So user will trust more about your products.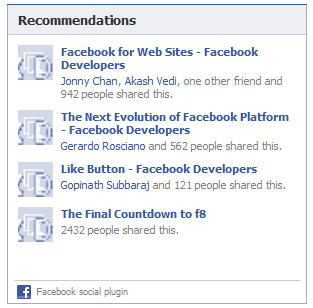 Like Box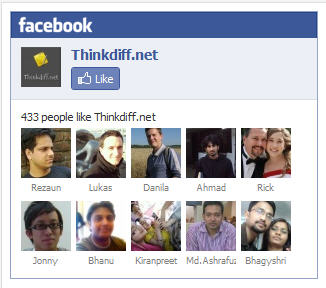 Actually facebook changed their old fanbox name to likebox. You can create a facebook page where previously users become fan, now instead of becoming fan they will like it.
Benefits
See how many users already like this page, and which of their friends like it too
Read recent posts from the page
Like the page with one click, without needing to visit the page
Among all 8 plugins I like these 3 plugins most and already using for my sites and recommends to my friends. There are another 5 plugins you can use for your sites to make your sites more engaging place.
So checkout all of these plugins from here. Some plugins don't provide iframe base code but XFBML code. So you have to check the latest javascript SDK implementation to integrate those plugins and XFBML code in your site. I'll soon write an article about the latest javascript sdk implementation. So hope I'll see you again in my next article. 🙂