Facebook Widgets
---

If you have a site, then you should aware to increase more traffic in any possible way. If you're aware on it, then you could use and integrate facebook widgets in your site. Currently there are 10 widgets provided by facebook. You could visit here http://www.facebook.com/facebook-widgets/ to see all the widgets. Widgets integration is very easy. You just have to select some options and facebook will generate code that you can easily add in your site.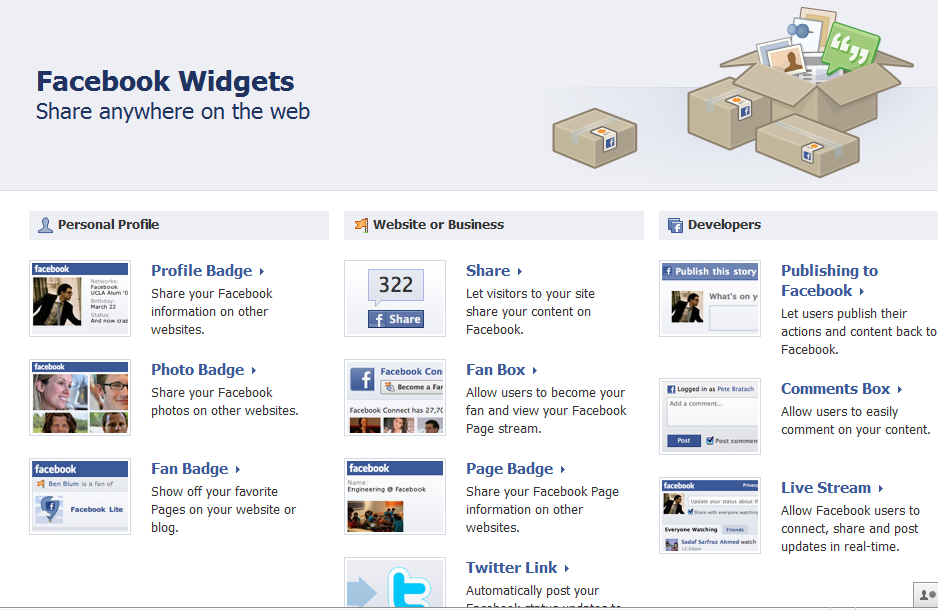 Among 10 widgets my favorite widgets are:
| | |
| --- | --- |
| | This is a nice widget that you can use with your site content. So user can easily post the content in their facebook profile. |
| | Allow users to become your fan and view your Facebook Page stream. By this way you can inspire your normal website visitors to be fan in your facebook page. So when you update your content and update your facebook page those users will see the last update and will visit your site. |
| | Allow users to easily comment on your site's content. |
| | Allow Facebook users to connect, share and post updates in real-time. This is really a nice and useful widget. If you want to do some live discuss on some matters then this widget will help you. |
So use some of these facebook widgets and make your site more sociable.